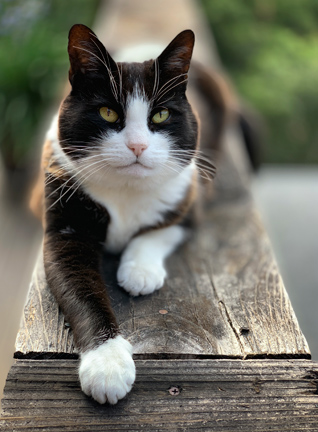 Hi Friend,
Thanks for clicking on my picture in John's Black and White Friday email. As much as I like being the Official Mascot of Black and White Friday, there really aren't many benefits as far as I can tell.
I wanted to be more involved, so over the past year I have been working hard to try and master dictation using Siri. You should try typing on a MacBook Pro with paws! First, it's hard to hit just one key at a time, and secondly as soon as Anne or John see me typing they come running, and I get out of there fast!
Since you took the time to click on my picture I want to extend a special 5% discount to you on John's Black and White Friday print this year, Corn Lily and Grasses. To receive the secret 5% discount; simply enter the code 'BOOTS' (without the quotation marks) in the 'COUPON CODE' section of the secure web order form at the Ventana Editions online store. Please don't mention to Anne or John where you got this code or I might get in big trouble. If, by chance, that happens it won't be a big deal. All I have to do is roll over on my back and wiggle my paws a little, and they'll start giving me a tummy rub. Once I start purring they both forget I'm supposed to be in trouble. It works every time!
I hope that you and your family have a wonderful Holiday season. I like all of the fun decorations we have around here. By the way, Christmas trees are really great for climbing! I think I better get back to work. I spend most of my day supervising the studio. Most people think I'm sleeping, but I am really keeping a close eye on everything that goes on around here.
Purrsonally yours,