ORIGINAL SILVER GELATIN PHOTOGRAPHIC PRINT BY ANNE LARSEN
AVAILABLE ONLINE AT SPECIAL DISCOUNT PRICE FOR A LIMITED TIME
I have been busy working in the darkroom for the past couple of weeks making prints in preparation for this Special Collector's Edition Print offer. The image I have chosen is Curtain, Carmel Valley. From now until October 31, 2016 I am offering this 5x7" silver gelatin print for $360 - a 20% discount off of the normal gallery retail price of $450.
To place a secure online order for this print, follow this link: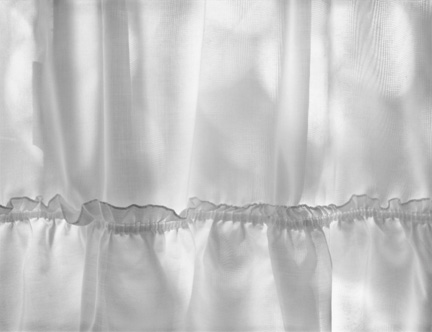 Curtain, Carmel Valley, California
©1995 Anne Larsen. All rights reserved.
This image is one that has always held a very special place in my heart. I made the photograph about a year after moving to the United States from Denmark. At that time I did not feel my photography had a clear direction. I was still trying to figure things out from all of the changes I had experienced leaving my home country and starting a new life with John in California. In Denmark I worked for a very successful commercial studio in Copenhagen that specialized in food and beverage photography. It was a very hectic, and at times stressful job, but also very exhilarating. I made many photographs with my view camera every day for clients, and often found myself in the studio on the weekends photographing for myself. Adjusting to my new life here in the USA I sometimes felt a little lost, and felt I was loosing my "touch" making photographs. Just prior to making this photograph we had completed a Gift of the Commonplace workshop with Ruth Bernhard. During the workshop she shared with the group her famous quotation "Today is the Day!"
While I knew it was not going to be possible for me to make a new image every day, I gave myself the goal to make at least one new negative every week. I left my 4x5" view camera set up in our home to eliminate the excuse that I did not have time to get the camera out, set it up, and make a photograph. Once I embarked on this process my way of seeing changed. Suddenly I became much more aware of light, shadows, and texture. The first few weeks the images I made were adequate and nothing special. However, my photographic seeing became more spontaneous, and the process of photography was once again giving me great enjoyment.
I had often admired the light coming through the curtains in our bathroom, but this particular afternoon the light seemed exceptional. The trees outside were casting shadows onto the curtain and the window-screen created an interesting moiré pattern. I immediately got my camera and organized the image of the soft, wavy fabric on my ground glass. Before exposing the negative I turned on the light in the bathroom to fill in the shadows. I was very excited. I continued to work on this project of making at least one new negative each week for six months, and came up with a number of "keepers." These images have stood the test of time for me, and are among those I still love to share with others. I hope you will enjoy my photograph, Curtain, Carmel Valley.
This silver gelatin, selenium toned print is approximately 5-5/8 x 7-1/4", personally printed by me, processed to current archival standards, signed, mounted, and matted to 14x17" on 100 percent rag museum board.
All prints ordered will be delivered by November 30, 2016.
All prints are carefully prepared and packaged in specially designed protective shipping boxes, and shipped fully insured via UPS ground. If you have any questions about the prints, please feel free to contact Anne at 831-659-3130, or email: info@johnsexton.com. Our office hours are Monday through Thursday from 10:00 am to 1:00 pm, Pacific Time.
---
John Sexton Photographer
Post Office Box 30
Carmel Valley, California 93924 USA
Phone: 831/659-3130
Email: info@johnsexton.com
---
©2015 John Sexton. All rights reserved
Site last updated September 29, 2016