---
RAY McSAVANEY PHOTOGRAPHIC ARCHIVE
UPDATES, INSIGHTS, AND REMEMBERANCES
For those who have been readers of this newsletter for the past couple of years, you may recall a unique installment from July 2014 honoring my long-time friend and fellow photographer, Ray McSavaney shortly after he passed away. Many readers made generous donations to the Friends of Ray fund to help preserve his photographic legacy. Ken and Tammy Karagozian became the caretakers of Ray's photographic archive. They, along with the help of a number of dedicated friends, "rescued" Ray's photographic materials from his loft during the last few days of his life. I want to share some good news, and update you on what has transpired over the past two years.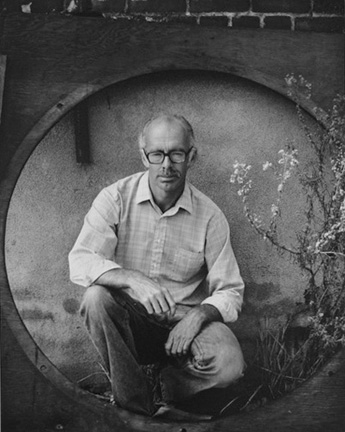 Ray McSavaney - Photograph by Jack Waltman
©1981 Jack Waltman. All rights reserved.
A significant portion of Ray's photographic archive is now part of the permanent collection at The Huntington Library in San Marino, California. Ray's photographs, referred to by The Huntington as the Ray McSavaney Collection, join their considerable photographic holdings that include large bodies of work by many photographers, including Edward Weston and Ansel Adams. To learn more about their impressive photographic collection, which includes over 500,000 images with an emphasis on photographs from California, Los Angeles, and the western landscape, you can check out their online resources here.

It was Ray's strong desire that some of his archive would go to The Huntington to join a number of his prints they had collected during the last few years of his life. Ray had a great working relationship and friendship with Jennifer Watts, Curator of Photography at The Huntington.
I am pleased to share with you essays from three essential individuals who are directly responsible for the great success in finding a new home for Ray's photographs in the permanent collection at The Huntington. The texts below by Ken Karagozian, the caretaker of Ray's photographic archive; Janet Schipper who has contributed countless hours working with Ken, and her sister Joan, sorting, organizing, and cataloging the many items in Ray's archive; along with Jennifer Watts, the Curator of Photography at The Huntington Library. In addition, I suspect that you might see at leasat one image below by Ray that you have not seen previously!
Anne and I were astonished when we visited Ken and Tammy Karagozian's home two years ago, which, at that time, had literally been "taken over" by Ray's prints, negatives, book collection, drawings, paintings, correspondence, files, and other personal items. I believe it is safe to say that all who have been involved in the process of protecting and preserving Ray's photographic archive have been impressed not only by his abilities, but also by his varied talents. Along with his photographic accomplishments, Ray was a gifted writer, designer, illustrator, woodworker, and painter.
Thanks to those that contributed so generously to the Friends of Ray fund two years ago. Your contributions provided the monetary fuel to allow this important work to take place. There are still monthly payments for climate-controlled storage of Ray's remaining materials, as well as expenses for purchasing additional archival materials – as Ken, Janet, and Joan, are still archiving, organizing, and cataloging additional items in Ray's archive. If you would like to make a donation to the Friends of Ray fund to assist with this ongoing work, or have any questions for Ken, you can contact him at raymcsavaneyarchive@gmail.com
---
A NOTE OF THANKS FROM KEN KARAGOZIAN
CARETAKER OF THE RAY McSAVANEY PHOTOGRAPHIC ARCHIVE
Thank you to everyone who donated to the Friends of Ray fund. Without your support the preservation of Ray McSavaney's photographic archive would not have been possible. Janet and Joan Schipper have been a great help investing many hours sorting, organizing, and cataloging Ray's materials.
It was a pleasure working with Jennifer Watts and The Huntington Library where the Ray McSavaney Collection now resides in their permanent collection. The collection includes many of Ray's fine prints, drawings, Polaroid prints, and an unfinished book mock-up, In the Sacred Land of the Ancient Ones, as well as many other items.
Ray's Southwest book collection was donated to the Georgia O'Keeffe Ghost Ranch Library in New Mexico. Tammy and I recently visited the library and it was exciting to see the books that Ray loved so much on the shelves.
Special thanks to John and Anne for all their guidance and help with Ray's archive. Finally, and most importantly, I want to thank my wife Tammy for her patience and understanding for all the time and work involved in preserving Ray's archive.
As we continue to organize, protect, and catalog the remaining materials we are actively trying to find additional museums or institutions interested in Ray's photographs and more than 25,000 4x5" negatives.
Ken Karagozian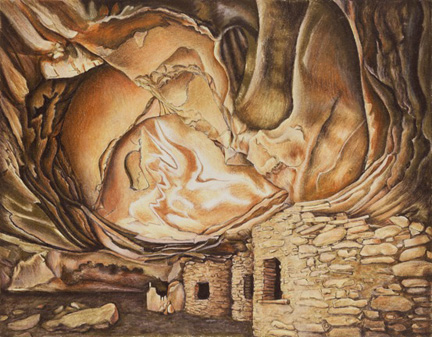 Anasazi Site - Prismacolor pencil drawing by Ray McSavaney
©2016 Ray McSavaney. All rights reserved.
---
RAY McSAVANEY'S PHOTOGRAPHIC ARCHIVE
A STATUS REPORT FROM JANET SCHIPPER
When Ray McSavaney passed away in July 2014 he left a considerable photographic legacy. He had been one of the founders of the Owens Valley Photographic Workshops and was a highly respected teacher. He had self-published "Explorations" which represents a fine selection of his images and reveals his talents as a writer. His photographs had been exhibited and collected by individuals and institutions, including the Huntington Library in San Marino, California.
One of Ray's final wishes was that the bulk of his photographic archive be donated to the Huntington. He had worked with Jennifer Watts, Curator of Photography and he knew that his work would be appreciated at the Huntington.
Well, final wishes are easily spoken but making Ray's wish a reality has taken effort by many. Ken Karagozian accepted the responsibility of physical custody of Ray's archive, which includes hundreds of prints (matted, mounted, loose, signed, unsigned), slides, Polaroids, drawings, and more than 25,000 4x5" negatives. There are also files with records from workshops, brochures and posters, and notebooks filled with Ray's writings on many subjects. Ray also left a collection of 1,000 art and photography books.
The first order of business was to organize. A storage unit was rented, shelf units were assembled, prints/negatives/transparencies were sorted into boxes and inventoried. When this initial phase was complete enough, we contacted Jennifer Watts and she visited the storage unit to see the materials. Jennifer knew Ray, having visited his loft a few times. She had acquired several prints directly from him for the Huntington Library. She knew about most of his projects but had never seen the work in depth.
On her visits to the archive Jennifer looked into every box and got a full understanding of the breadth of Ray's artistic activities. She was delighted to see a few projects that were unknown to her, for example a large number of abstract color Polaroid prints. Eventually, Jennifer selected approximately 250 individual pieces and the materials were transferred to The Huntington in early 2016. The Huntington did not acquire the negatives or slides.
The art and photography books were handled next. Ray clearly loved his books. Many of them were signed and inscribed to him. His interests as a reader were wide ranging – including fiction, non-fiction, books by and about photographers and artists. He had dozens by painters, especially Edward Hopper and Georgia O'Keeffe. He had an impressive collection on the Southwest – photographic monographs, natural histories, Native American subjects such as rugs, pottery, and cliff dwellings. The Southwest books, including several by Ray's friend John Nichols, were donated to the library at Ghost Ranch Education & Retreat Center in Abiquiu, New Mexico. The books will be used by scholars, students and visitors from around the world. We think Ray would be happy to know his books are at Ghost Ranch. The rest of the books were sold to dealers with the funds helping to support the archive activities.
The storage unit isn't empty yet. The next step will be to stabilize the slides and negatives into archival sleeves and boxes. We will continue to count and categorize the materials so we can present an accurate view of what the archive contains. We hope to find an institution that will take the entire archive with the goal of extending Ray's legacy through exhibition/publication and through making his work available to scholars and researchers.
Going forward we hope to extend Ray's presence on the Internet. He has a website but it would be great for more people to find their way to Ray's legacy as a photographer/writer/artist. http://www.raymcsavaneyphotography.com
Many people have been involved in Ray's archive so far. Ken Karagozian was chosen by Ray to be the caretaker. John Sexton and his wife Anne Larsen helped initially to set up archive after Ray's passing in 2014 and John continues as a consultant. Janet Schipper joined in late summer that year and has been contributing sweat equity and ideas ever since. Her sister, Joan Schipper, brings her librarian skills to the process.
It has been a privilege to be involved with Ray's archive. The accomplishment of placing Ray's work at The Huntington and the book collection at Ghost Ranch has been very satisfying.
Janet Schipper
September 2016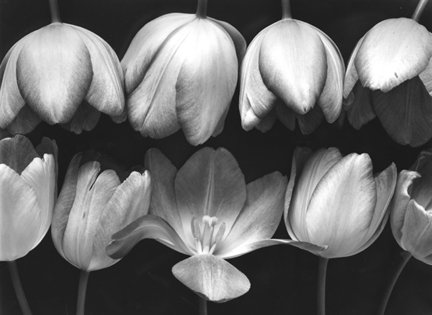 Nine Tulips
©1998 Ray McSavaney. All rights reserved.
---
A TRIBUTE TO RAY McSAVANEY
BY JENNIFER A.WATTS
The text below was presented by Jennifer A. Watts, Curator of Photography, The Huntington Library during An Evening To Celebrate The Life and Legacy of Photographer Ray McSavaney,
organized by the Sierra Club, Angeles Chapter, Camera Committee on April 13, 2015
I am honored that Ken and Janet asked me to say a few words during this celebration of Ray's life and photography. To be honest, I did not know Ray all that well – not nearly as well as those of you who worked side-by-side as friends and colleagues on all those many workshops and expeditions. Still, the impression he made on me both as a person and an artist was singular.

I can't recall the particulars of how or when we met, but it had to be around 2007 when I was preparing an exhibit about Los Angeles photography. I came across Ray's book, Explorations, and do clearly remember being bowled over by the exquisite reproductions and articulate accompanying text.

Then, as if by magic, he called out of the blue. "Jennifer?" the soft voice on the other end tentatively asked. "Yes?" – I replied. "This is Ray McSavaney." There was a pause while I voiced my surprise. I rushed to explain that I knew who he was…that I loved his book …that I hoped we could meet. The silence on the other end grew. I wasn't sure he was still there. Only with benefit of hindsight, did I realize that Ray had been quietly bemused.

Soon thereafter, he came to The Huntington with a portfolio of flower studies tucked under his arm. I visited his loft at The Brewery on several occasions and he showed me beautiful, piercing work made over thirty years. My acquisitions budget was limited, so I proposed a plan. I would purchase discrete groups of photographs over several fiscal years, starting with the Under the Los Angeles Bridges work. He had begun that series in 1979 and kept at it pretty continuously, taking a hiatus only when he briefly had vision problems due to cataracts.

On the one hand, I found it hard to believe that other institutions and curators weren't banging down Ray's door. On the other, it was no surprise at all. I'm not speaking here to Ray's purity of vision or the excellence of his images, but rather to the lack of self-regard that kept him from actively promoting his work. In the tribute to Ray published in the July/August issue of View Camera, certain words appear again and again: humble, unassuming, compassionate, patient, and kind. These traits are rarely rewarded in our brash, self-aggrandizing age.

As for me, I came to appreciate and savor the pauses that had so rattled me during our initial phone conversation all those years ago. Ray ended Explorations with this statement: "It is we who must be open and listen to that which is beautiful or that which seems difficult … so that we might learn and thus survive." That sentiment exemplifies Ray for me. A modern sage: deliberate, thoughtful, wise. Ray's body is gone, but his photography speaks clearly, forcefully, even sometimes bemusedly. Ray's spirit survives.
Jennifer A. Watts
Curator of Photography
The Huntington Library, Art Collections & Botanical Gardens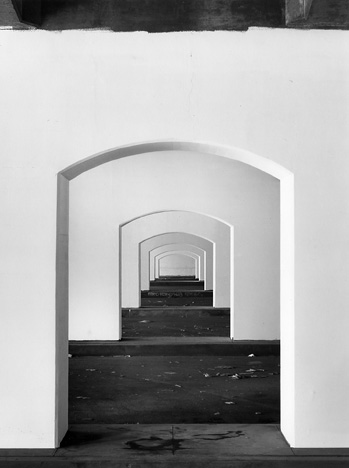 Santa Ana Freeway Bridge
Los Angeles, California
©1989 Ray McSavaney. All rights reserved.
---
CONTACT US WITH QUESTIONS, OR COMMENTS:
John Sexton
Post Office Box 30
Carmel Valley, California 93924
Voice: 831-659-3130
Fax: 831-659-5509
info@johnsexton.com
www.johnsexton.com