Read unsolicited comments from past workshop participants.
Complete workshop brochure. Download now
Application form and procedures: Download now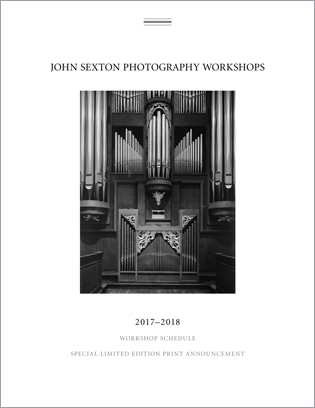 For further information, please contact:

Anne Larsen, Associate Director
John Sexton Photography Workshops
Post Office Box 30
Carmel Valley, CA 93924

Phone: 831/659-3130

E-mail: mailto:info@johnsexton.com

www.johnsexton.com


---
---
March 21 - 26, 2017
THE EXPRESSIVE BLACK AND WHITE PRINT WORKSHOP
Carmel Valley, California
34th consecutive year - three identical sessions offered
---
April 4 - 9, 2017
THE EXPRESSIVE BLACK AND WHITE PRINT WORKSHOP
Carmel Valley, California
34th consecutive year - three identical sessions offered
---
October 15 - 20, 2017
MONO LAKE AND THE EASTERN SIERRA: EXPLORING AUTUMN LIGHT
Charles Cramer and John Sexton
Lee Vining, California
---
March 20 - 25, 2018
THE EXPRESSIVE BLACK AND WHITE PRINT WORKSHOP
Carmel Valley, California
34th consecutive year - three identical sessions offered
---
April 3 - 8, 2018
FINE TUNING THE EXPRESSIVE PRINT WORKSHOP
Carmel Valley, California
29th offering of this advanced workshop
---
---
UPCOMING EVENTS
JOHN AND ANNE TWO PERSON MUSEUM EXHIBITION
LONGVIEW MUSEUM OF FINE ARTS - LONGVIEW, TEXAS
POSTPONED UNTIL FALL 2018
It is with great disappointment that Anne and I have come to the difficult decision to postpone our two-person exhibition Inspired by Light: The Photographs of John Sexton and Anne Larsen at the Longview Museum of Arts in Longview, Texas.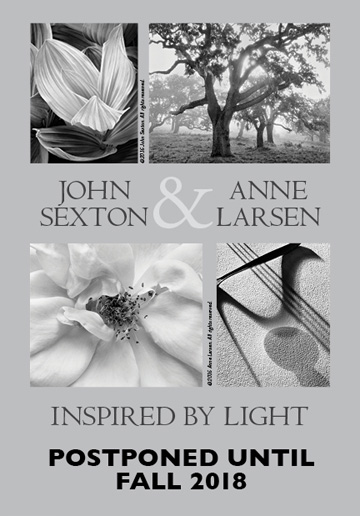 On our travels back from the Southwest in May I experienced significant pain in my right knee. Friends and long time readers of this eNewsletter might recall that I had a partial left knee replacement almost five years ago. I originally injured my right knee in 1985 and have had a number of surgeries over the years to repair the damage of the initial injury, as well as re-injury. I knew I would need a new knee at some point, but had not anticipated in any way that it would be happening this year. I did not fall or knowingly injure my knee on this trip, but the pain I was experiencing on our return was not reduced by pain medication, icing, and other procedures I have used effectively over the years. Instead it got worse. This led me to a visit with my orthopedic surgeon – the same fellow who did my initial surgery almost thirty-one years ago. It turns out that I will be having a total knee replacement in early November, shortly after we return from our annual Mono Lake workshop with Charlie Cramer.
Regrettably the pain in my knee has made it difficult to work in the darkroom for extended periods of time. Though Anne and I normally do not work in the darkroom together, she is now assisting me in terms of processing of my prints, as well as toning and washing the prints, for which I am most grateful. In spite of our best efforts, we could quickly see this was going to limit our planned productivity this summer in preparing new work we had both planned on including in the exhibition.
I contacted Tiffany Jehorek, the Acting Director of the Museum, to explain our situation. She most graciously suggested the possibility of postponing the exhibition. As disappointing as this was, we realized it was the right thing to do. The museum was already booked for 2017, so the new dates for our exhibition together are October 13 through December 15, 2018.
We will be traveling to Longview for an artist reception, and there will be a public lecture, as well as an all-day seminar in November of 2018. We will provide more details as the event draws closer. We apologize to those who were enrolled in the all-day seminar and to those who were planning to attend the reception or the public lecture. Hopefully we will all be able to rendezvous in 2018, and the exhibition will be even better because of the additional time available to make photographs and prints between now and then.
---
RECENT EVENTS
John's Photographs Included in exhibition at the National Art Museum of China, Beijing, China
November and December 2014

It is a great honor to have twelve of my prints included in the new exhibition Journey of the Heart: Exhibition of Straight Photography Original Print 1839-2014 on display at the National Art Museum of China through December 10, 2014. This large exhibition looks at the entire history of photography. I am further honored to have some of my prints added to NAMOC's permanent collection. I am thrilled to have my work on the walls with such legends as Ansel Adams, Edward Weston, William Henry Fox Talbot, Imogen Cunningham, and many others! There is a bit more information on the exhibition here.
---
John and Anne's photographs included in the Sun to Moon Gallery 13th Anniversary Exhibition
November 20, 2014 through January 15, 2015

Anne and I are honored to have photographs included in the current 13th Anniversary exhibition at the Sun to Moon Gallery in Dallas, Texas. We wish we could attend the celebration, and see the show, but unfortunately our schedule will not allow us to do so.
---
If you are interested in the possibility of having John present a lecture or seminar for your organization, please contact Anne Larsen for further information. Phone: 831/659-3130 Email: info@johnsexton.com