---
JOHN AND ANNE EXHIBITION
SUN TO MOON GALLERY
DALLAS, TEXAS
Exhibition Dates: September 5 - October 12, 2013
Opening Reception: Saturday, September 7, 2013 - 5:00 to 8:00 pm
All Day Seminar: Friday, September 6, 2013 - Sun to Moon Gallery
Free Public Lecture, Saturday, September 7, 2013 - 1:00 pm - Richland College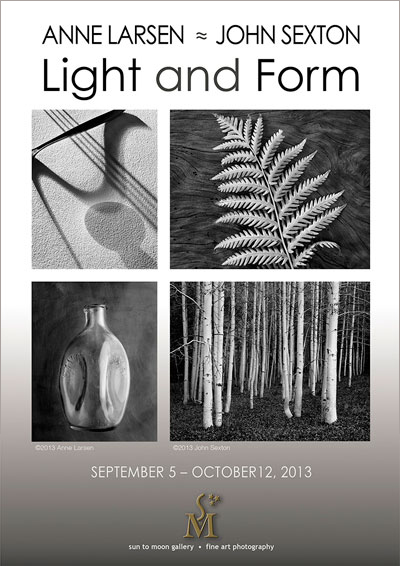 Anne and I are very busy preparing for our upcoming two-person exhibition at the Sun to Moon Gallery in Dallas, Texas. The show will run from September 5 through October 12, 2013. There will be an opening reception on Saturday, September 7 from 5:00 to 8:00 pm
In addition we are planning a one-day seminar on Friday, September 6 from 9:00 am to 5:00 pm. We are hoping we can provide an interesting, and informative day that will provide both information and inspiration to participants.

The seminar fee is $179 - which includes lunch. I have included information that Sun to Moon Gallery recently published on the seminar below, along with their contact information. For additional information about the seminar, please visit the Sun to Moon Gallery web site.
There are only 20 spaces available, and similar events at Sun to Moon Gallery have filled quickly, so if you are interested contact the gallery soon.
I am pleased to announce that Richland College is hosting a public lecture on Saturday, September 7 at 1:00 pm. The event if open to the public, and the admission is free. There will be a poster sale and signing following the lecture. The event will be held in the Fanning Performance Hall, F102, at Richland College. Richland College has hosted some great photography lectures in the past, and I am honored to be a part of their photography lecture series. I will also be spending some time with the Richland photography students, which I am really looking forward to. For further information about the lecture contact photography professor Wayne Loucas loucas@dcccd.edu.
If you are able to attend the lecture, be sure to stick around for the opening reception that evening. Richland College is about a 30 minute drive from the Sun to Moon Gallery. We are looking forward to seeing a bunch of our photography friends from Texas.
---
---
CREATIVE DIGITAL TRAVEL PHOTOGRAPHY ON THE MONTEREY PENINSULA
CALIFORNIA STATE UNIVERSITY MONTEREY BAY
COURSE DATES: July 15 - 28, 2013
JOHN'S PUBLIC LECTURE: July 16, 2013 - 7:00 pm
JOHN'S CLASSES AS PART OF THE WORKSHOP: July 16 and 17, 2013
http://www.csusummerarts.org/courses2013/VA-Digital_Travel_Photography.shtml
I am pleased to be involved with the 2013 Summer Arts program at nearby California State University Monterey Bay. The faculty, that includes well-known photographers and instructors Rick Sammon and Nevada Wier, along with Michael Jones from West Coast Imaging and Professor Mark Larson, will provide excellent information and inspiration for those attending the session. I will be spending two days with participants, and presenting an evening lecture that is open to the public. Workshop participants will have an opportunity to learn creative seeing and photography techniques, along with insights into photography careers. In addition, participants will develop Photoshop skills for fine-art inkjet printing and print two large fine-art images for the public culmination exhibit.
For more information about the course contact Professor Mark Larson at mark.larson@humboldt.edu or 707-826-5925.
---
EXHIBITION

ANNE LARSEN AND JOHN SEXTON: LIGHT AND FORM

THE ANSEL ADAMS GALLERY
YOSEMITE VALLEY, CALIFORNIA

APRIL 18 THROUGH MAY 29, 2013