---
Black and White Friday
Silver gelatin print at a super discounted price for one week only!
Special limited time offer
John's image, Aspens At Dusk, Near Aspen, Colorado, silver gelatin print for $150
NOVEMBER 2018
---
Welcome to our fourth annual Black and White Friday offering! We are giving you a one-day head start this year!
Starting now, and for one week only, I am offering an intimate size silver gelatin print of my image, Aspens at Dusk, Near Aspen, Colorado at a very special discounted price.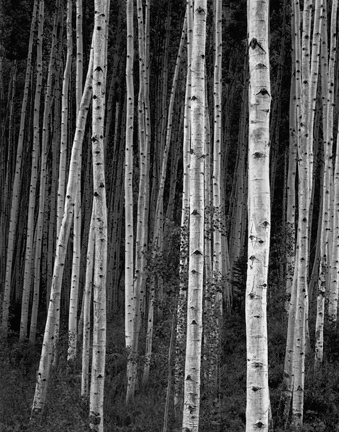 Aspens at Dusk, Near Aspen, Colorado
©1983 John Sexton. All rights reserved.
This 5x7" handcrafted silver gelatin image is being offered for one week only at the very special discounted price of $150 – a significant saving from the gallery retail price of my prints. Unlike my other prints, this 5x7" print – printed by me on 11x14" silver gelatin photographic paper – will be delivered UNmounted, and without an overmat. Please know that this special discounted price is good only for orders placed prior to midnight Friday, November 30, 2018. After that date the price will increase to $300.
The print will be made to the same exacting standards as all of my other prints, and will be selenium toned and archivally processed. It will be signed and dated by me, and will include a tastefully designed and photographically printed title at the bottom of the 11x14" paper, along with a discrete embossed stamp denoting this is a silver gelatin print by John Sexton in the lower right corner. To place a secure online order for this print please follow this link:
http://ventanaeditions.stores.yahoo.net/asatduneasco.html
As many readers are aware, I LOVE photographing aspen trees. I am fascinated by the way their trunks reflect light and in certain situations seem to have a magical luminous quality. This image appears as Plate 24 in my book Listen to the Trees. I made this image just moments after the making of the book's, frontispiece. Even though the two images were made only a few feet apart, using the exact same lens on my 4x5 Linhof view camera, and are both equally sharp, I have always printed this photograph small. To me the intimacy of this image invites close inspection and communication, and for me a small print size encourages the viewer to come close to listen to the print as it whispers its message.
Prints will begin shipping on December 5, 2018. If you would like to receive your print in time for the holidays, please be sure to let us know at the time of the order. It would also be a good idea to follow up with an email. We will make every effort to ship prints out in time for holiday gift giving for those who need them. All print orders will be shipped no later than February 28, 2019.
The prints will be carefully prepared and packaged in rugged protective envelopes, and shipped fully insured. If you have any questions about the print, please feel free to contact Anne at 831-659-3130 or email info@johnsexton.com. Our office hours are Monday through Thursday from 10 am to 1 pm Pacific time.
Anne and I want to take this opportunity to thank our many eNewsletter subscribers for the very kind responses we have received from last week's mailing. If you have not had a chance to see my latest eNewsletter - which includes recollections of my recent induction into the International Photography Hall of Fame and Museum, along with other photographic news as well as an additional special print offer - you can find it here:
http://www.johnsexton.com/newsletter11-2018.html
Anne and I hope that you and your family have a wonderful Thanksgiving, and we wish you the best for the coming Holiday season.
Cheers!

John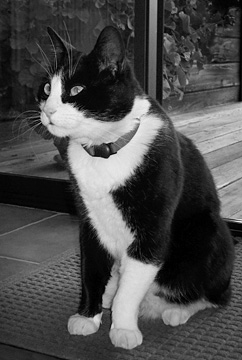 Boots the Cat
Official Mascot of Black and White Friday
©2010 John Sexton. All rights reserved.
---
John Sexton
Post Office Box 30
Carmel Valley, California 93924
Voice: 831-659-3130
Fax: 831-659-5509
info@johnsexton.com
www.johnsexton.com