JOHN MAKING LAST SILVER GELATIN PRINTS OF HIS WELL-KNOWN IMAGE TWO CHAIRS
AVAILABLE AT DISCOUNTED PRICE FOR A LIMITED TIME
Over the years many of my favorite images seem to involve some type of unexpected occurrence or unanticipated result. Such is the case with my image of Two Chairs, which I made nearly thirty-eight years ago in the ghost town of Bodie, where I was teaching a workshop with my friends Bruce Barnbaum and Ray McSavaney. We had divided the workshop in three groups among the three of us, and I took my group into one of the buildings. I gave the assignment to my group that each of the participants should make a photograph within the confines of this small building.
During my years studying photography in college there were a few times when I was given assignments that I suspected the instructors had never completed themselves. My feeling was, if they had done the assignment themselves, they never would have given it in the first place! So I decided that I should participate in the assignment as well.

One of the workshop participants, who was seated at the table was interesting to me, so I asked if I could make his portrait. He kindly agreed, but as I was organizing and studying the image on the ground glass, I was less convinced that the photograph was going to work as an effective portrait. I delicately asked the workshop participant if he could help improve my photograph by removing himself from it! I was much happier with just the two chairs and the table.
This print, shown below, is now available for order online. This 8x10" print is being offered for a limited time at the very special price of $800. After June 30, 2015 the price will increase to $2,000. The print is only being made in 8x10" size.
To place a secure online order for this print, follow this link: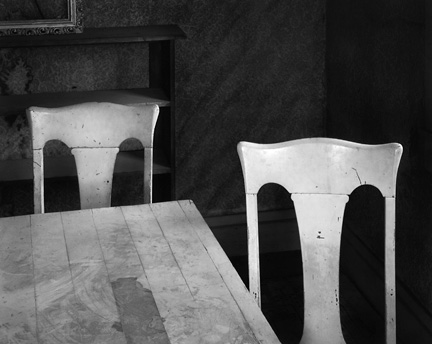 Two Chairs, Bodie, California
©1977 John Sexton. All rights reserved.
This print is approximately 7-1/2 x 10-3/8", personally printed by me (as are all my prints), processed to current archival standards, signed, mounted, and matted to 14x17" on 100 percent rag museum board.
Prints will begin shipping on June 15.
All of the prints ordered will be shipped no later than July 31, 2015.
All prints are carefully prepared and packaged in specially designed protective shipping boxes, and shipped fully insured via UPS ground. If you have any questions about the prints, please feel free to contact Anne at 831-659-3130, or email: info@johnsexton.com. Our office hours are Monday through Thursday from 10:00 am to 1:00 pm, Pacific Time.
If you would like to know more about how the Two Chairs, image helped "introduce" my photography to a larger audience, please see the information below.
Learn more about the print Two Chairs, Bodie, California
---
WE ARE PLEASED TO ANNOUNCE THE 2015-2016 JOHN SEXTON PHOTOGRAPHY WORKSHOPS

2015 marks the 25th year of the John Sexton Photography Workshops program. We are pleased to be offering a selection of excellent workshops for 2015 and early 2016.
Learn more about John's workshops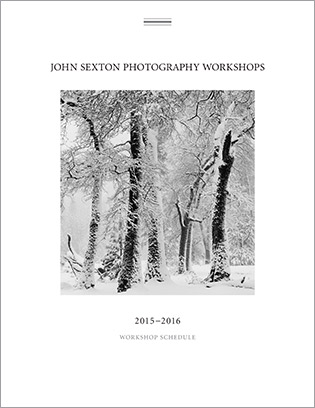 John Sexton Photography Workshops selected as one of the "Twelve Best Photography Workshops" by American Photo magazin.
"As John Sexton Photography Workshops celebrates a silver anniversary, its reputation as the pinnacle of black-and-white printing education only continues to grow. Sexton and his small but dedicated team have helped over 1,200 students on their quest to make better black-and-white photography," –American Photo magazine
---
Watch John Sexton, along with his longtime friend Kim Weston, discuss their passion for the black- and- white print in these brand new videos produced by Epson.
Epson Web Site Celebrates the Black-and-White Print and it even includes videos of me, and my longtime friend Kim Weston. Epson launched this web site today. I am very pleased with the way my
video interview turned out. If you have a few moments, you may want to check it out, along with the interview with Kim Weston. There are three additional segments coming. In addition there are tutorials on black and white digital techniques by pals Dan Steinhardt and Tony Corbell.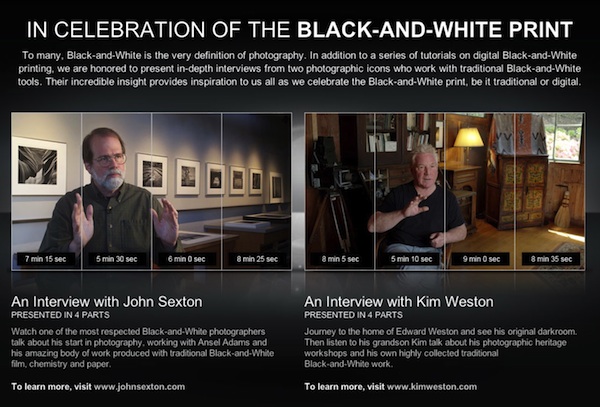 ---
LEXUS - ANSEL ADAMS: CHASING LIGHT VIDEO FEATURING JOHN SEXTON
NOMINATED AS FINALIST IN DIGIDAY VIDEO AWARDS
Exactly one year ago Anne and I were in Lone Pine working with a young and energetic production crew from The Enthusiasts Network (TEN), on a video for Lexus. The production, undertaken with the cooperation of The Ansel Adams Publishing Rights Trust, culminated in a 13-minute video: Chasing Light – Inspired by Ansel Adams.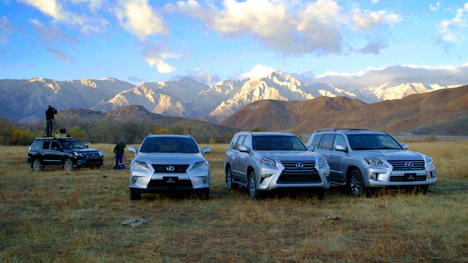 Lexus Vehicles at Ansel Adams' Winter Sunrise Location
Lone Pine, California
Well, the video has just been nominated as a finalist in the prestigious Digiday Video Awards in the "Best Video Design - Consumer" category. I was pleased to be a part of the production, and Anne and I thought the final result was excellent. We are thrilled for the hard working production team at TEN, and have many fond memories from the intense week we spent with them visiting photographic locations around California. Our days regularly began at 4:00 am (ugh!!!) and on occasion we were still rigging or driving after midnight! It was hard work, but we had fun!
You can read in greater detail about the project in last year's eNewsletter here.
If you haven't already seen it, I hope you will watch the video here.
By the way... those Lexus SUV's are very comfortable! It was the fist time I had experienced air-conditioned seats in a vehicle (aka bun chillers!). I hope you enjoy the video, and I am sure you will learn a thing or two about Ansel that you might not already know through the insightful comments of William Turnage, the Managing Trustee of the Ansel Adams Publishing Rights Trust.