ASPEN DREAM, NEAR ASHCROFT, COLORADO
SPECIAL DISCOUNTED PRICE OF $750 - SAVE 25%
THROUGH JUNE 15, 2017
This print, shown below, is now available for order online. This 11x14" silver gelatin print is being offered for a limited time at the very special price of $750 - a 25% discount off of the normal gallery retail price of $1,000. After June 15, 2017 the price will return to the normal retail price of $1,000.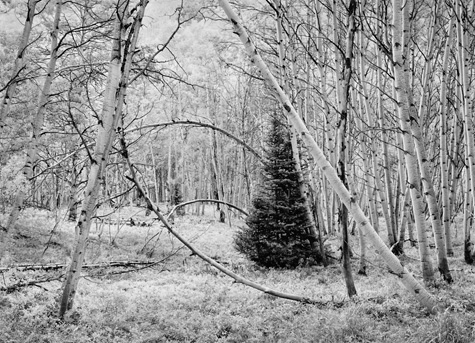 Aspen Dream, near Ashcroft, Colorado
©1989 John Sexton. All rights reserved.
I made Aspen Dream, near Ashcroft just before sunrise in an aspen grove, whose location had been suggested to me by my long time friend Jim Baker, at the time the Photography Program Director at Anderson Ranch Arts Center in nearby Snowmass Village, Colorado. Jim knew my photography well and thought I would enjoy this small, intimate grove of aspens and had mentioned that the light was beautiful in the early morning.
I headed up Castle Creek Valley in the dark and followed Jim's directions to the grove. By the time I arrived the sky was beginning to glow behind the ridgeline to the east. I shouldered my camera pack, grabbed my tripod and headed off into the grove. Within a few moments I had an experience I had never had previously, and have never had since. As I was following the easiest path through beautiful aspens, all of a sudden I had a sense that I knew what would be around the bend – as if I had been in this aspen grove many times before. What amazed me was, as I meandered around some spruce trees, what I saw before me was exactly what I expected, even though I had never been here before!
I am sure we have all felt this sense of deja vu previously, but this was vivid and it was as if I knew exactly the position of the lone spruce tree and the arching aspen trunks. It was not as if I simply wanted to make the photograph, I felt I HAD to make this image. I suspect that the dreamlike experience I had may not convey to others through the image, but I do hope you can experience the ethereal glow and the wonderful sense of solitude and permeating light I felt that early autumn morning in Colorado. I am pleased to share this image with you.
This silver gelatin, selenium toned, print is approximately 13-3/8 x 9-3/4", personally printed by me (as are all my prints), processed to current archival standards, signed, mounted, and overmatted to 16x20" on 100 percent rag museum board.
Prints will begin shipping on June 19, 2017, and all of the prints ordered will be shipped no later than August 31, 2017.
All prints are carefully prepared and packaged in specially designed protective shipping boxes and shipped fully insured via UPS ground. If you have any questions about my prints, please feel free to contact Anne at 831-659-3130 or email: info@johnsexton.com. Our office hours are Monday through Thursday from 10:00 am to 1:00 pm Pacific time.
Learn more about the print Aspen Dream, Near Aspen, Colorado
The image, Aspen Dream, near Ashcroft, Colorado, was included in my book Listen to the Trees. James Baker, whose essay The Dialect of Trees was included in the book, references this specific image. We have decided to add the essay from Listen to the Trees by Jim Baker, along with the introductory text A Celebration of Trees by Stewart L. Udall, as well as my preface, Within the Forest, to our web site. Hopefully you will find some of these essays of interest. I still find myself frequently drawn to making photographs of trees and explorations in the forest. It is where I feel most comfortable.
---
2017 AND EARLY 2018 JOHN SEXTON PHOTOGRAPHY WORKSHOPS SCHEDULE ANNOUNCED
I am pleased to announce my new workshop schedule for 2017 through early 2018. I continue to be amazed at the interest in the workshops that we offer. It is particularly rewarding to note the international interest in our traditional printmaking workshop, The Expressive Black and White Print, being offered in 2017 for the thirty-fourth consecutive year. By popular demand we are once again offering the Fine Tuning the Expressive Print workshop in April 2018. This workshop is open only to individuals who have previously taken one of my printing workshops.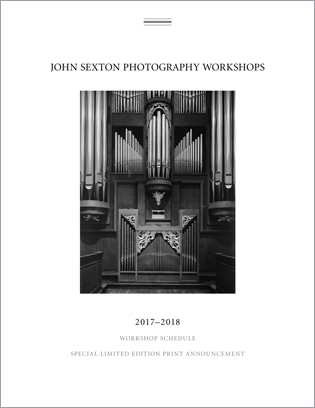 You can see the complete schedule, get detailed information about the workshops, and download an illustrated PDF of the new workshop brochure here: http://www.johnsexton.com/schedule.html
We have indicated that past offerings of the Fine Tuning workshop could be the last such offering. However we continue to get workshop alumni specifically requesting the opportunity to take this workshop, so we are planning to offer it one more time again. Will it be the last offering? At this point we think so… but who knows what the future holds?
If you're interested in next October's Mono Lake and the Eastern Sierra: Exploring Autumn Light workshop, be sure to apply early, as this workshop fills quickly. Charlie Cramer and I both personally review all applications and try and put together a workshop group that will create a stimulating environment for all who attend – both traditional and digital photographers are invited to apply for this synergistic field workshop experience.
I want to thank all of our workshop Corporate Partners and Associate Partners for their support of the program once again this year. It is amazing to realize it was more than forty years ago that I taught my first small workshop with my long-time friend John Charles Woods for a few fellow photography majors at Cypress College. We had a great time on that workshop, and I continue to learn so much from participants today. I always believe the instructor learns more than any individual student in a workshop experience. On our workshops we try and provide an environment that presents useful information, as well as inspiration, to encourage personal growth in your photography.
Again, to learn more about the workshops, or to apply, please visit my web site johnsexton.com where you can download the complete workshop brochure as well as the application form.
---
IMPORTANT INFORMATION FOR USERS OF 120 FORMAT KODAK PROFESSIONAL FILMS- PLEASE READ
As many readers are likely aware, I have used Kodak Professional film continuously for more than four decades. Over the years I have found Kodak film to be of the highest possible quality and consistency. However, anomalies can occur from time to time. There have been recent reports that appear to be associated with certain batches of 120 format Kodak Professional film.
The problem can easily be seen in the photograph below recently made by William Wetmore. I appreciate William allowing me to share this example with readers. You will notice the word Kodak clearly appears in the sky, along with frame number '13' multiple times. I first became aware of this situation a few months ago when a former workshop participant brought some online discussions on this topic to my attention. Unfortunately, as time has passed, I have encountered a number of students, colleagues, and friends who have experienced this exact problem.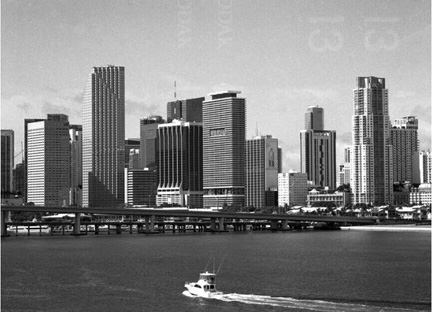 ©2016 William Wetmore. All rights reserved.
Follow this link for more detailed information: John Sexton May 2016 Newsletter
---
ONE OF JOHN'S ORIGINAL POLAROID PRINTS
INCLUDED IN UPCOMING INTERNATIONAL TRAVELING EXHIBITION AND BOOK
A few months ago I received an unexpected email from the Foundation for the Exhibition of Photography stating that one of my original Polaroid Land Instant color prints had been chosen for inclusion in The Polaroid Project international traveling exhibition and catalog. I suspect some eNews subscribers did not know that I even did color photography. I have included the image below.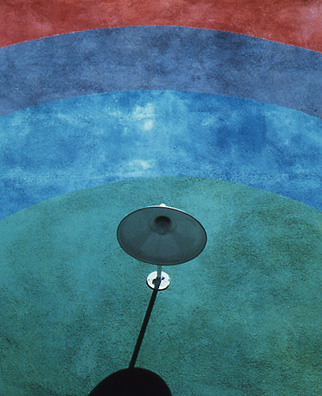 Lamp and Painted Wall
Santa Cruz, California
Polaroid Land Type 59 Polacolor Instant Print
©1979 John Sexton. All rights reserved.
Needless to say, I was thrilled by this news, and am honored to be included in the The Polaroid Project: Art and Technology exhibition and book. The exhibition is curated by William Ewing, Barbara Hitchcock, Gary Van Zante, Deborah G. Douglas, and Rebekka Reuter. Their concept was to produce a wide-ranging exhibition encompassing all aspects of Polaroid photography, including the technology that made it possible, and to simultaneously publish a serious study of Polaroid photography that will contribute to the understanding of Edwin Land's amazing invention of instant photography. Several hundred pieces are included illustrating the full range of Polaroid materials covering the art production from the 1940s to the present.
The exhibition will be on display in both the US and Europe at the following venues:
Amon Carter Museum of American Art, Fort Worth TX
June 3-September 3, 2017
WestLicht Museum for Photography, Vienna
November 2017-March 2018
C/O Berlin, Berlin
March 16- May 27, 2018
MIT Museum, Cambridge, Massachusetts
Early 2019
The project is organized by the Foundation for the Exhibition of Photography along with the MIT Museum in Cambridge, Massachusetts, as well as the WestLicht Museum for Photography in Vienna, Austria.
I have been fascinated with Polaroid Land Instant photography since 1973, when I attended my first Ansel Adams workshop, where we had the opportunity to use Polaroid Type 52 and Type 55 instant films. I found Polaroid to be a wonderful material to learn about the magic of light as an essential part of the photographic process. In 1977, at the age of twenty-four, I was invited to become a participating photographer in the Polaroid Collection. It was a tremendous honor to be included in a group that incorporated some of the best-known photographers working at that time.
The opportunity to work with Polaroid Land Instant films transformed the way I made photographs. The ability to see a print as the integral part of the creative photographic process gave me a greater appreciation of how essential light is to making a successful photographic image. I continue to strive for a luminous quality of light in my photographs. The intimate, jewel-like beauty of an original Polaroid print is something I still find unique and beyond my ability to describe in words. Only when viewing the print can the full meaning of the photograph be experienced. Over the years I had the opportunity to work with a number of different 4x5 and 8x10 inch films when I served as a consultant to Polaroid Corporation, and the distinct honor to make the first ever black and white 20x24 Polaroid print made outside of the laboratory.
I have included two of my 20x24 Polaroid Land Instant prints, in my new 2017-2018 John Sexton Photography Workshops brochure as the front and rear cover images.
If you would like more information about the upcoming exhibition and book, please visit the following link:
http://www.fep-photo.org/exhibition/polaroid/
---
JOHN SEXTON
CELEBRATING THE BLACK AND WHITE PRINT
EPSON VIDEO PRESENTATION
In this video presentation, produced by Epson, I discuss my passion for the black and white traditional silver gelatin print. I am very pleased with the way the video interview turned out. If you have a few moments, you may want to check it out. I hope you enjoy the entire presentation. I was honored to be included in this video production and have the opportunities to share my thoughts and images with viewers.
"To many, the black and white print is the very definition of photography," said Dan (Dano) Steinhardt, marketing manager, Epson America, Inc. "We wanted to capture what Black-and-White has meant emotionally for generations of photographers as we celebrate the Black-and-White print, be it traditional or digital."
---
LEXUS - ANSEL ADAMS: CHASING LIGHT VIDEO FEATURING JOHN SEXTON
NOMINATED AS FINALIST IN DIGIDAY VIDEO AWARDS
Exactly one year ago Anne and I were in Lone Pine working with a young and energetic production crew from The Enthusiasts Network (TEN), on a video for Lexus. The production, undertaken with the cooperation of The Ansel Adams Publishing Rights Trust, culminated in a 13-minute video: Chasing Light – Inspired by Ansel Adams.
Lexus Vehicles at Ansel Adams' Winter Sunrise Location
Lone Pine, California
Well, the video has just been nominated as a finalist in the prestigious Digiday Video Awards in the "Best Video Design - Consumer" category. I was pleased to be a part of the production, and Anne and I thought the final result was excellent. We are thrilled for the hard working production team at TEN, and have many fond memories from the intense week we spent with them visiting photographic locations around California. Our days regularly began at 4:00 am (ugh!!!) and on occasion we were still rigging or driving after midnight! It was hard work, but we had fun!
You can read in greater detail about the project in last year's eNewsletter here.
If you haven't already seen it, I hope you will watch the video here.
By the way... those Lexus SUV's are very comfortable! It was the fist time I had experienced air-conditioned seats in a vehicle (aka bun chillers!). I hope you enjoy the video, and I am sure you will learn a thing or two about Ansel that you might not already know through the insightful comments of William Turnage, the Managing Trustee of the Ansel Adams Publishing Rights Trust.